National & International Bridal Sessions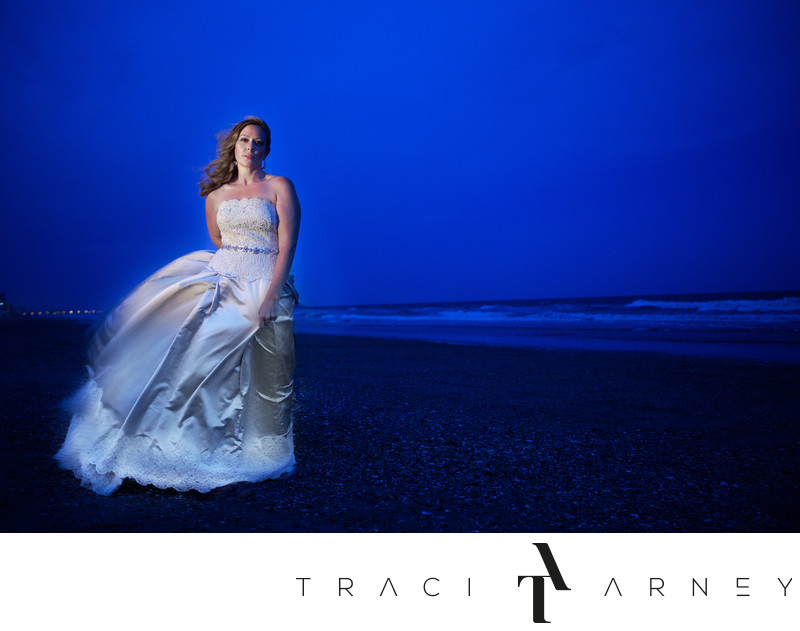 The Bridal Session is a beautiful, quintessentially southern staple that my national and international brides are embracing. I have very fond memories of, as a child, staring longingly at the formal photographs of my Mom, my Grandma, and even my Great-Grandma standing serenely and quite formally (and in truth, a little stiffly) in their bridal gowns. It's one of the reasons I fell in love with photography.
Just like the modern day bride, the bridal session is not quite so stayed or formal. It's much more about who the bride is and how she envisions her wedding. Yes, it's still a chance to be a princess for a day, to be the center of attention, but it's also a real opportunity for a trial run. You get all gussied up in the gown, the jewelry, those fab shoes you spent months looking for, try out you hair and make-up and really test out the fit of the dress and how the finished look fits in with your vision of your day. The very best thing about the bridal though, is the experience! Spending the day basking in the glory of being the bride, being the glorious bride and model and feeling more beautiful than you've ever felt before. And when we sit down together to look through your images and relive your day, you''ll know your true beauty. After the session is over, most of my brides choose one to three images from the shoot and have them on display as 11x14s or 16x20s at the reception before they go one permanent display in her parents' home. And just wait until you see the bridal album!!!
BRIDAL SESSION PRICING
Your all-inclusive commission fee covers any consultations, planning sessions, an unlimited photo session usually running up to 4 hours and the creation of your portraits. It also includes the artistic mastering of each delivered image.
| | |
| --- | --- |
| Local Sessions | $650 |
| Destination & Travel Session | $1500 + Travel Expenses |
PRESENTATION SESSION
All prints are purchased a la carte during your complimentary in-home or Skype presentation and ordering session. Prints are not included in your session fee. Pricing below represents prints that are mounted and ready to frame. Custom framing is available upon request. The sizes listed are the most commonly ordered but, of course, custom sizes are always available.
ABOUT YOUR PRINTS
All prints are printed on archival, museum quality papers. To maintain archival quality, pieces should be displayed out of direct sunlight and in a normal or low humidity environment. This guarantees your artist quality prints will last a lifetime.
ALBUMS
We will present you with a custom album design including your favorite images. Books are available in sizes from 6x9 to 15x12 and in cover materials from leathers to silks. Once you have approved the design, your fine art, handmade albums will be signed and shipped directly to you.
The Pocket Album is a 4x6 book with one image per page and is perfect as a small gift or to carry around in your purse as a brag book. 20 pages are included. Additional pages are always available.
PRINT PRICING
We offer our clients a wide array of traditional and custom print sizes as well as add-on matting, mounting and framing. These images are all printed in an archival method so that your memories will be preserved throughout the next 200 years or so. Wall portraits are always signed by the artist. If you would like special products, just ask.
| | |
| --- | --- |
| 30x40 Wall Print | $1200.00 |
| 24x36 Wall Print | $1000.00 |
| 20x30 Wall Print | $750.00 |
| 24x24 Wall Print | $800.00 |
| 20x24 Wall Print | $500.00 |
| 16x20 Wall Print | $250.00 |
| 11x14 Print | $125.00 |
| 12x12 Print | $100.00 |
| 8x12 Print | $70.00 |
| 8x10 Print | $55.00 |
| 5x7 Print | $40.00 |
| Set of 50 4x6s of your choice | $125.00 |
| 4x6 Print | $30.00 |
| 8 Wallets | $30.00 |
DIGITAL FILES
Your images will be delivered to you via an online gallery and storefront. This personalized website can be shared on any social media platform as well as via email. Additionally, every image in your gallery has the ability to be shared with a simple click of a button. Should you want to the fully edited Master Artist Digital Files, are always available for purchase by my clients. *Raw or unedited images are not available under any circumstances.
All digital files are delivered at the noted pixel size and may be printed no larger without losing quality. We will send you a list of recommended labs so you get the very best from your purchase.
| | | |
| --- | --- | --- |
| 1 copy of each Master Artist File from your event | Original Size | $2000 |
| 1 16x20 Master Artist File | 7000 px | $500 |
| 1 11x14 Master Artist File | 4200 px | $400 |
| 1 8x10 Master Artist File | 3000 px | $300 |
| 1 5x7 Master Artist File | 2100 px | $200 |
Please note that sales tax will be applied to all purchased within NC. The NC Tax rate is 6.75%.
All purchases must be paid in full prior to print fulfillment.
We are more than happy to set up payment plans so you can get exactly what you want when you are able.

Destination Wedding Photographer,
Copyright @ 2023
,
Salisbury, NC Wedding Photographer Traci Arney
,
225 Stonefield Ln, Salisbury, NC 28146
, (336)404-6949,
Privacy Policy
,
Terms of Use